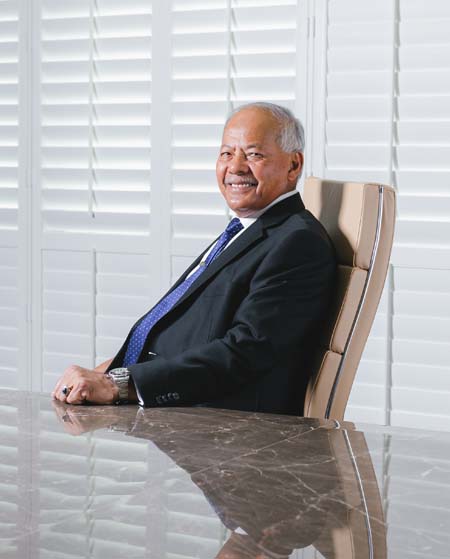 YBHG. GENERAL (R) TAN SRI DATO' SERI MOHD SHAHROM BIN DATO' HJ NORDIN
CHAIRMAN
Established in 2011, Yayasan TRC (YTRC) is the philanthropic arm of TRC Synergy Berhad. The foundation set up by the Group is dedicated to providing aid and donations to several categories of beneficiaries, with priority to the Group's employees and their family members.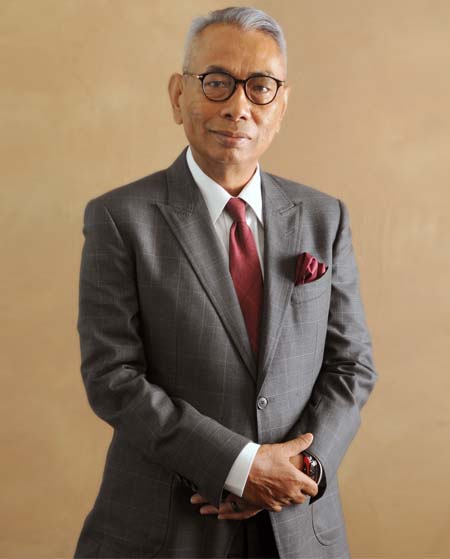 YBHG TAN SRI DATO'SRI SUFRI BIN HJ MOHD ZIN

TRUSTEE
The Group genuinely believes that the best way to contribute to the sustainability of the industry is to sow the seed into education. In directing our energies in education,we are sowing the seeds of success take root in human capital development to ensure the industry's sustainability.
We are committed to providing financial to eligible employees and their children, as well as to deserving but underprivileged students in pursuing quality higher education. We firmly believe in a reward system to encourage students to become more competitive in their pursuit of education. Testimony to our belief, we introduced the Students' Excellence Achievement Award to reward family members of eligible employees who excel in their examinations.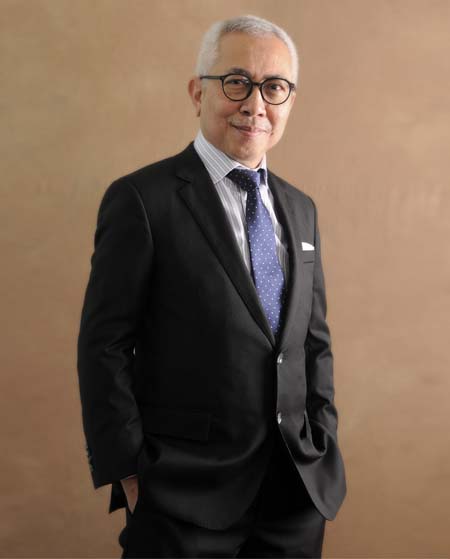 YBHG DATO' ABDUL AZIZ BIN MOHAMAD

TRUSTEE
Contributions may come not only in the monetary form but also in voluntary initiatives. Our experienced committee is ready to be mobilized for any charity drive, fund raising activities and our disaster response team. We instil and promote compassion and sensitivity towards those who affected by calamities. For instance, we have extended post-flood assistance and distribution of essential items to a group of community. Our intention is to help families in resuming their normal activities sooner and lighten their financial strain.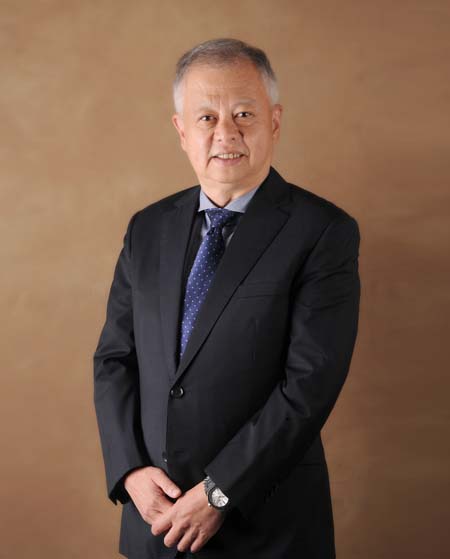 YBHG. DATO' RICHARD KHOO TENG SAN

TRUSTEE
Our Corporate Social Responsibility (CSR) principle is in line with our motto 'As One With The Nation', is through sharing our wealth with the communities where we do business in. We contribute by extending our hands to the needy groups or organizations in the communities.
As a part of our community partnership efforts, we aim to save lives through blood donation campaigns, in collaboration with the National Blood Centre in Kuala Lumpur and Hospital Tuanku Ampuan Rahimah (HTAR)in Klang.
In another CSR initiative, we donated medical supplies to Hospital Serdang during the COVID-19 outbreak to promote better healthcare, compassion and wellness for individuals and communities. Our aim is to assist the government by working together with hospitals to curb the spread of COVID-19 virus.
Our Activity Highlight
Year 2023
PROGRAM PLOGGING 2.0 & KESEDARAN KITAR SEMULA ANJURAN YAYASAN TRC & HQ SHE COMMITTEE DENGAN KERJASAMA MAJLIS PERBANDARAN AMPANG JAYA (MPAJ)
Date: 19 Ogos 2023
Venue: TRC Headquarters
Program Alam Sekitar – Plogging 2.0 anjuran Yayasan TRC (YTRC) dan TRC HQ SHE Committee dengan kerjasama Jabatan Pengurusan Sisa Pepejal dan Pembersihan Awam, Majlis Pembandaran Ampang Jaya (MPAJ) telah berlangsung dengan jayanya pada 19hb Ogos 2023 yang lalu bertempat di Perkarangan Ibu Pejabat TRC.
Penganjuran ini bertepatan dengan Sambutan Hari Kemerdekaan yang Ke-66 tahun, bertemakan "Tekad Perpaduan Penuhi Harapan".
Objektif kami agar dapat bersama-sama membudayakan amalan hijau dan kitar semula. Ini secara tidak langsung dapat mengeratkan lagi hubungan sesama Masyarakat khususnya komuniti setempat.
Matlamat ini juga selari dengan Pembangunan mampam (SDGs).
Turut hadir adalah Pengerusi YTRC, YBhg. Jeneral (B) Tan Sri Dato' Seri Mohd Shahrom Bin Dato' Hj Nordin bersama barisan Ahli Lembaga Pengarah TRC Synergy Berhad, Barisan Pihak Berkuasa Tempatan (PBT) daripada Majlis Perbandaran Ampang Jaya (MPAJ) dan Wakil Ahli Jawatankuasa Penduduk Taman Andaman Ukay (AURA).
Sebanyak 660-kilogram berat sampah yang terdiri daripada 481kg sampah yang boleh dikitar semula dan 179kg sampah tabur (dihantar ke tapak pelupusan sampah) telah berjaya dikumpulkan pada hari tersebut. Antara pengisian lain adalah taklimat berkenaan tatacara pengurusan sampah dan kitar semula yang dikongsikan wakil daripada Jabatan Pengurusan Sisa Pepejal dan Pembersihan Awam MPAJ.
Semoga inisiatif yang baik ini dapat diteruskan di masa akan datang sekaligus memberi manfaat kepada masyarakat secara positif serta alam sekitar.
MAJLIS PENYERAHAN SUMBANGAN RAMADHAN AL-MUBARAK 4.0 & PROGRAM KEMBALI KE SEKOLAH
Date: 6 April 2023
Venue: TRC Headquarters
Pada tahun ini buat julung kalinya Yayasan TRC (YTRC) telah menyambut dua sambutan dalam satu majlis keraian iaitu Program Ramadhan Al-Mubarak 4.0 dan Program Kembali Ke Sekolah.
Sedikit kelainan pada program kali ini, di mana YTRC bukan sahaja memberi sumbangan kepada masyarakat di sekitar Ibu Pejabat TRC beroperasi malah turut menyantuni warga kerja Kumpulan TRC termasuklah yang berada di Sabah dan Sarawak.
Program ini turut diserikan dengan kehadiran Ahli Lembaga Pemegang Amanah YTRC, Ahli Lembaga Pengarah TRC Synergy Berhad dan Ahli Jawatankuasa YTRC.
Semoga sumbangan yang dikongsikan dapat dimanfaatkan dengan sebaiknya oleh keluarga penerima
PROGRAM JALINAN KASIH YAYASAN TRC SEMPENA TAHUN BARU CINA 2023
Date: 18 January 2023
Venue: Pertubuhan Berkat Kasih (House of Love), Klang
Year 2022
CONTRIBUTION TO GENERAL PEDIATRICS WARD, HOSPITAL PUTRAJAYA IN CONJUNCTION WITH WORLD CHILDREN'S DAY 2022
Date: 9 December 2022
Venue: General Ward Pediatrics Hospital Putrajaya
CONTRIBUTION OF REFURBISHED COMPUTERS AND LAPTOPS TO STUDENTS
Date: 19 September, 5,12& 27 November 2022
Venue: Universiti Utara Malaysia, Sintok, Kedah / SJKC Chuen Min, Klang / SJKC Kg Tawas, Ipoh / SKJC Thung Hon Chenderong Batu Gajah, Perak
ENVIRONMETAL PROGRAM – PLOGGING DAY
Date: 24 September 2022
Venue: Within the Vicinity of Taman Melawati, Kuala Lumpur
MAJLIS PENYERAHAN SUMBANGAN RAMADHAN AL-MUBARAK 3.0 SEMPENA PROGRAM PRIHATIN YAYASAN TRC
Date: 28 April 2022
Venue: TRC Headquarters
CONTRIBUTION TO PARENTS AND TEACHER ASSOCIATION – SK WANGSA MAJU (ZON R10)
Date: 30 March 2022
Venue: Sekolah Kebangsaan Wangsa Maju (Zon R10)
PROGRAM BACK-TO-SCHOOL AT SJK (T) LADANG BATU AMPAT, KLANG
Date: 31 March 2022
Venue: SJK (T) Ladang Batu Ampat, Klang
EARTH HOUR – NIGHT PHOTOGRAPHY CHALLENGE
Date: 27 March 2022
Venue: TRC Headquarters
PROGRAM JALINAN KASIH ANJURAN YAYASAN TRC SEMPENA TAHUN BARU CINA 2022
Date: 26 January 2022 & 27 January 2022
Venue: Pusat Jagaan Warga Emas Chan, Kuala Lumpur Dan Hun Nam Siang TNG, Sarawak.
Year 2021
PROGRAM PERKONGSIAN PEK MAKANAN KEPADA BARISAN HADAPAN
Date: 23 November 2021 & 11 Disember 2021
Venue: Hospital Putrajaya, Hospital Tengku Ampuan Rahimah (HTAR) Klang, Hospital Serdang, Balai Polis Taman Melawati Dan Balai Polis Ulu Kelang.
PROGRAM JALINAN ILMU YAYASAN TRC – UTHM
Date: 21 October 2021
Venue: Tan Sri Johan Jaafar Corner, Perpustakaan Tunku Aminah, Universiti Tun Hussien Onn Malaysia (UTHM)
PROGRAM BAKUL KASIH ANJURAN YAYASAN TRC
Date: 24 September 2021
Venue: TRC Headquarters
AKTIVITI KEMASYARAKATAN ANJURAN YAYASAN TRC SUMBANGAN BAUCER KEPADA BARISAN HADAPAN: PENGHANTAR MAKANAN DAN BARANGAN
Date: 26 September 2021
Venue: TRC Headquarters
AKTIVITI KEMASYARAKATAN ANJURAN YAYASAN TRC: SUMBANGAN KEPADA KELUARGA ENCIK SABRI, HULU KEMENSAH, HULU KELANG
Date: 23 September 2021
Venue: Hulu Kemensah, Hulu Kelang
BANTUAN KHAS COVID-19: BANTUAN PERANTI PINTAR KEPADA CALON SPM 2021
Date: 26 August 2021
Venue: SMK Lembah Keramat Dan SMK Taman Melawati
BANTUAN KHAS COVID-19 UNTUK KAKITANGAN KUMPULAN TRC
Date: 23 August 2021
Venue: TRC Headquarters
MAJLIS PENYERAHAN SUMBANGAN RAMADHAN AL-MUBARAK 2.0 SEMPENA PROGRAM PRIHATIN YTRC
Date: 27 April 2021
Venue: TRC Headquarters
YTRC EARTH HOUR – DINNER IN THE DARK CHALLENGE
Date: 27 March 2021
Venue: TRC Headquarters
Earth Hour is a campaign launched by the World Wide Fund for Nature (WWF) which aims to increase awareness and spark global conversations on protecting nature not only to combat the climate crisis but also to ensure our own health, happiness, prosperity, and even survival. The event is held annually for one hour from 8.30 pm until 9.30 pm on the last Saturday in March which falls on 27th March 2021. WWF has also announced a global theme of 'Climate Change To Save Earth' for this year.
In conjunction with this event, YTRC is pleased to announce the YTRC Earth Hour Challenge. Participants need to upload their moment for this challenge-themed "Dinner in The Dark" and write the most creative caption on your social media pages (Instagram or Facebook) using hashtags;
#YTRCEarthHourChallenge
#earthhourdirumah
#earthhour2021
Heartiest congratulations to the winners!
PROGRAM JALINAN KASIH ANJURAN YAYASAN TRC SEMPENA PERAYAAN TAHUN BARU CINA 2021 DI PUSAT JAGAAN ORANG TUA XIAO XIN & WAN HING
Date: 8 February 2021
Venue: Pusat Jagaan Orang Tua Wan Hing Dan Xiao Xin
Year 2020
YTRC ART SHARING SESSION IN COLLABORATION WITH JALAK ART INITIATIVE
Date: 10 October 2020
Venue: Jalak Art Initiative Gallery, TRC Headquarter
TRAGEDI KEBAKARAN RUMAH PANJANG ENGKELILI, SRI AMAN SARAWAK
Date: 18 September 2020
Venue: Rumah Panjang Engkelili, Sri Aman Sarawak
UNIKL PROGRAM 'GEROBOK KASIH UBIS' IN COLLABORATION WITH YTRC
Date: 7-9 July 2020
Venue: UNIKL
RAMADHAN AL-MUBARAK CONTRIBUTION IN CONJUCTION WITH YTRC PRIHATIN PROGRAM
Date: 19 May 2020
Venue: TRC Headquarters
DONATION OF MEDICAL SUPPLIES TO HOSPITAL SERDANG DURING PANDEMIC COVID-19
Date: 7 April 2020
Venue: Hospital Serdang
TUITION PROGRAMME FOR ENGLISH SUBJECT AT SK KILIMU RANAU, SABAH
Date: 2 March 2020
Venue: SK Kilimu Ranau, Sabah
CHINESE NEW YEAR CONTRIBUTION TO STUDENTS OF SJK (C) SERDANG BARU 2
Date: 20 January 2020
Venue: Mini Auditorium SJK (C) Serdang Baru 2
Year 2019
BACK TO SCHOOL PROGRAM AT SPECIAL NEED SCHOOL AT SK SERDANG
Date: 21 November 2019
Venue: SK Serdang
BLOOD DONATION DRIVE & SAFETY CAMPAIGN AT 8MD3 PROJECT SITE
Date: 12 November 2019
Venue: 8MD3 Project Site Office, Putrajaya
FUND RAISING ACTIVITY-SELLING PHOTOS OF TRC 35 YEARS KEEP YOUR BEST SHOTS FOREVER
Date: 26 August 2019 – 3 September 2019
Venue: TRC Headquarter / Project Sites
IFTAR WITH CHILDREN FROM PUSAT JAGAAN KASIH NURUL HASANAH
Date: 23 May 2019
Venue: Ballroom A & B, Level 6, Hilton Kuala Lumpur
YTRC FUND RAISING ACTIVITY – COFFEE BREAK SESSION
Date: 9 April 2019
Venue: TRC Headquarter
CONTRIBUTION OF ESSENTIALS TO SK NG LEWIH BOARDING SCHOOL, BETONG, SARAWAK
Date: 8 January 2019
Venue: SK Ng Lewih Boarding School, Betong, Sarawak
Year 2018
UPGRADING LIBRARY INFRASTRUCTURE AT SK DANAU KOTA
Date: 19 October 2018
Venue: SK Danau Kota
IFTAR CEREMONY & RAYA CONTRIBUTION TO SINGLE MOTHERS & ASNAF IN COLLABORATION WITH DEPARTMENT OF SOCIAL WELFARE MALAYSIA (JKMM)
Date: 1 JUNE 2018
Venue: Sufri's Hall, TRC Headquarter
Year 2017
BACK TO SCHOOL PROGRAMME WITH SK LEMBAH KERAMAT
Date: 23 December 2017
Venue: Sufri's Hall, TRC Headquater
HARI GAWAI CONTRIBUTION TO STUDENTS OF SK NANGA AJAU, BETONG, SARAWAK
Date: 22 May 2017
Venue: SK Nanga Ajau, Betong, Sarawak
YAYASAN TRC OPEN DAY & CHARITY EVENT
Date: 13 May 2017
Venue: TRC Headquater
CHINESE NEW YEAR CONTRIBUTION TO STUDENTS OF UNIVERSITY TUN ABDUL RAZAK
Date: 19 January 2017
Venue: University Tun Abdul Razak
Year 2016
FOOD ASSISTANCE PROGRAMME (BREAKFAST) TO STUDENTS OF SK HULU KELANG
Date: 11 September – 25 November 2016
Venue: Sekolah Kebangsaan Hulu Kelang.
CONTRIBUTION FOR DEEPAVALI TO STUDENTS OF SJK (T) TAMAN MELAWATI
Date: 12 October 2016
Venue: Sekolah Jenis Kebangsaaan (T) Taman Melawati
Year 2015
POST- FLOOD ASSISTANCE MISSION IN MANEK URAI, KELANTAN
Date: 2 February 2015
Venue: Manek Urai, Kelantan
Year 2013
EXCELLENCE AWARD DAY FOR TRC STAFF'S CHILDREN (UPSR, PMR & SPM)
Date: 5 October 2013
Venue: TRC Headquarter